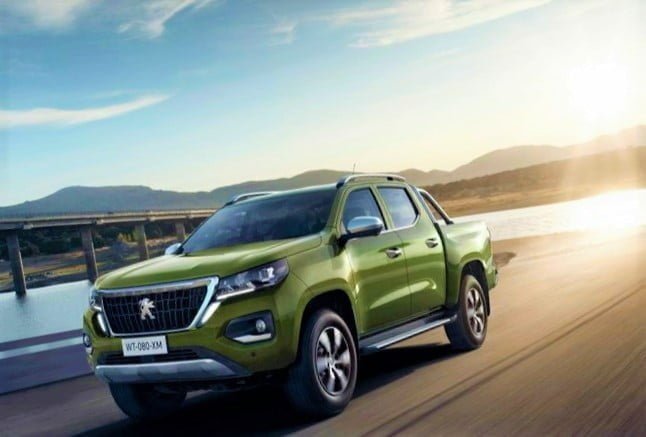 Peugeot Landtrek
 A flaming pickup truck is ready for every hard work
Hop on to another pickup market player for Peugeot Landtrek, 

a pickup truck

from Singa Camp.

A 2.4L petrol engine and a 1.9L diesel engine are available to choose from.
In Thailand, the Peugeot brand  from the city of perfumes returned to the market less than a year ago. By wading to send two models of SUV for sale. This is not the type of car that is popular with Thais at the moment. If the 1-ton pickup truck dominates the market with Japanese automakers this makes delving into building a customer base at Singha Lamphong Camp a difficult problem.
However, the French parent company has just unveiled its latest pickup, the Peugeot Land Trek, newly developed for the Latin American and Sub-Saharan African market. After the old truck was sent in code 404, 504 and 207 for sale before. It is clear that these cars are different from the 1-ton pickup trucks of the current era.
From the official launch it appears that the company has unveiled the car with three body styles , including a single head version with a chassis. A one-section and 4-door pickup, Peugeot says this little car was born for heavy use in many different ways. It can be seen from the dimensions of the single-section version with a length of 5390 mm and a width of 1920 mm, while the 4-door pickup model has been reduced to 5330 mm.
Peugeot revealed that it tested the Landtrek in all climates and terrains. With a mileage of more than 2 million kilometers combined with a 1.2-ton payload or towing 3 tons of trailers off the road without getting stuck in the middle of the road. For single-stage models, the rear bumper is not installed. The distance from the ground to the car has different heights. A maximum of 235 mm.
Peugeot Landtrek
The heart of the engine is a 2.4-liter four-cylinder petrol engine producing a maximum power of 210 hp and a maximum torque of 320 Nm and a 1.9-liter four-cylinder diesel engine producing a maximum power of 150 horsepower (HP) and a maximum torque of 350.Nm, paired with It comes with a 6-speed manual transmission or a 6-speed automatic transmission, with a choice of 4×4 or 4×4 drive. Furthermore there are also sport and eco-friendly driving modes for the driver to choose according to specific situations.
The Landtrek can accelerate from 0-100 in 11.2 seconds for the 2.4-liter gasoline model, all-wheel drive, and automatic transmission. The maximum speed is 177 km / h, but the diesel version has not yet appeared.
The interior was chosen by other models from the Singha Lam Phong group to combine it to look like a pickup truck. Starting with 3-spoke steering wheel, fit size 3008 sold in Thailand. Equipped with a 10-inch central infotainment touchscreen, as well as a simple but tasteful interior typical of a fragrant city car. In general, it looks more convenient than a pick-up truck from a Japanese camper.
In terms of standard equipment, fully in line with the approach of a modern car includes headlights , LED taillights, 4 vision cameras, separate automatic air conditioning and others, as well as safety systems that come with trailer control, ABS EBD ESP, 6 airbags Antennas and off-road warning systems.
Unfortunately, Peugeot intends to sell this model only in certain countries. European, American, Asian and Australian markets will lose the opportunity to reserve this model as well.