2024 elantra
Specifications revealed! Facelifted 2024 Hyundai Elantra in Japan
The Hyundai Elantra is a compact sedan from Korea that sells well both in Korea and the United States with a sporty body of the seventh generation.
Until recently, Hyundai Korea revealed the specifications and price ,
It will be called the Hyundai Avante , and it looks beautiful with a new cascading grille that looks good with a front bumper designed to look better than the number 7 LED headlights and the H logo on the edge of the hood.
On the one hand, the original design,
But the new two-tone, 17-inch five-tone alloy wheels with 225/45 tires are also available in 15-18-inch sizes, both alloy wheels to choose from. The rear retains its classic look with tall H-shaped LED taillights, but a newly designed rear bumper Perfect with a black spoiler lip.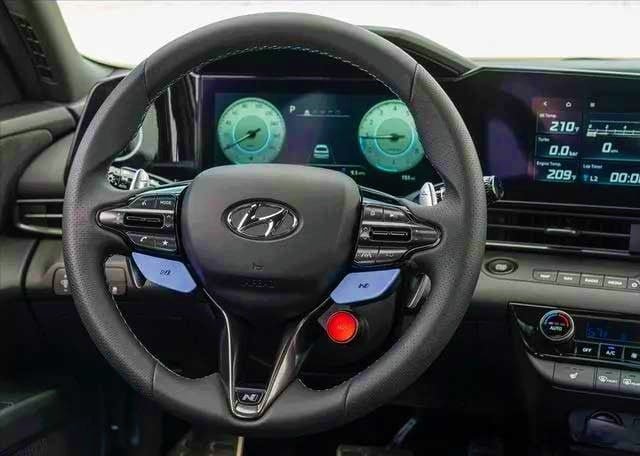 The interior has been slightly modified with the color scheme, decorated with new options full of digital keys ,
It can be operated via smartphones or smartwatches, either locked or unlocked. The cabin climate control system prevents moisture, odors and mold from entering the vehicle. wireless chargers and five heated or ventilated front seats. And 8 BOSE-quality speakers with fluorometers and the same size 10.25-inch touch screen
The power for the Korean market is only 1.6 liters, but there are many strengths,
Including Gamma MPI petrol 127hp, 154Nm of torque, paired with a 6-speed automatic transmission, and drive to match the Smartstream G 123hp and 154Nm. of torque meters, mated to an Intelligent Variable Transmission (IVT) or CVT and a turbocharged 204 hp petrol, 265 Nm of torque, mated to a seven-speed DCT dual-clutch automatic transmission in Elantra N trim.
Finally, with a 1.6-liter hybrid powertrain, 105 hp and 147 Nm of torque in the engine segment. This pairs a single front-wheel drive electric motor with 44hp and 170Nm of torque and a 1.32kWh lithium-ion battery together to produce 141hp and 264Nm of torque, mated to a six-speed dual-clutch automatic transmission.
As for safety, Hyundai Smart Sense has been added, including a blind spot monitor and eight airbags including for the rear passengers.
the engine
The 2024 Hyundai Elantra is available with a range of engines in different markets. I will mention some common engines for this car:
2.0L 4-Cylinder Engine : This engine generates 147 horsepower and 132 lb-ft of torque. This engine features multi-point fuel injection technology, variable exhaust valve control and a powerful and efficient drive system.
1.6L Turbo 4-Cylinder Engine: This engine generates 201 horsepower and 195 lb-ft of torque. This engine features a twin-turbocharged system and a multi-point fuel injection system
And with the variable exhaust valve control system and the powerful and efficient drive system.
These engines are mated to a six-speed automatic transmission or a six-speed manual transmission.
The car offers good performance and strong driving force, thanks to the powerful engines that are fuel efficient.
The car is also available with front-wheel drive or all-wheel drive in some markets.
These engines make the 2024 Hyundai Elantra a reliable and fuel efficient car.
And it makes the car a great choice for people who are looking for an SUV.