Toyota GR Corolla Rally Concept
The GR Corolla Rally Concept has been revealed at SEMA 2022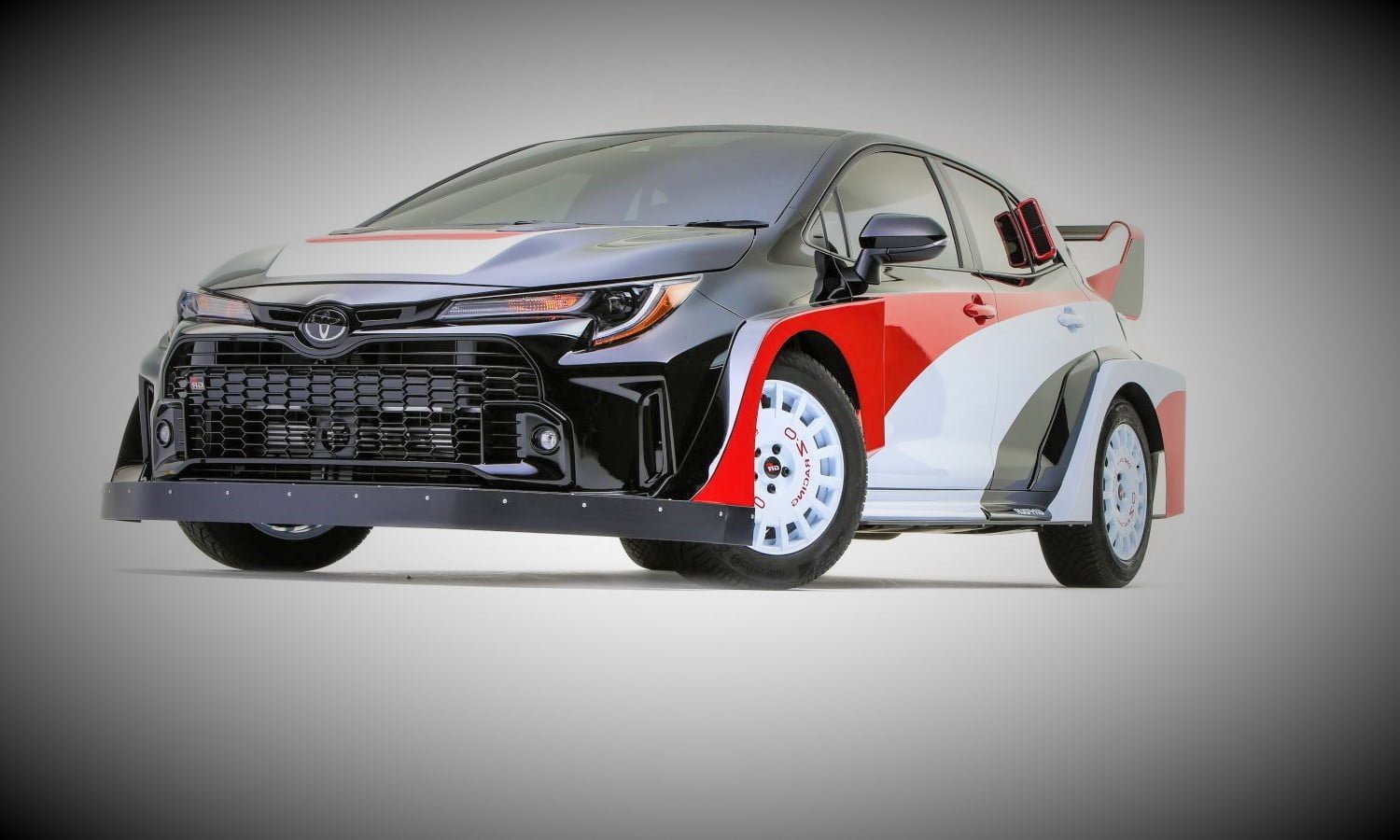 Of course, the Toyota GR Corolla Rally Concept will certainly be built on the basis of the Toyota GR Corolla, the arrival of which many people have been waiting for in our country. Although it wasn't built on the basis of last year's WRC-winning GR Yaris, the modifications they made give the GR Corolla a fresh look.
Toyota GR Corolla Rally Concept
Starting with the exterior body parts that are complemented by a large bulging side piece, like a WRC racer , which is intended not only to create air pressure for the car but also so that dust and muck from the wheels can bounce off the wheel arch more easily. For strength and durability, this bouffant is a piece of work and is therefore made entirely
It's steel sheet, not aluminum material or carbon fiber material. It's not fiberglass at all.
Next comes the installation of a set of carbon side skirts, with the windshield positioned below the front bumper. It will be a carbon compound to repel the light. So is the new rear diffuser. A massive rear spoiler also created was inspired by the GR Yaris WRC racer as well, including a 3D air trap to trap air to blow out the oil cooler to cool the gear train mounted behind the rear passenger seat. Which we also don't know why you leave this set of pillows…
In addition to the style of the car, such as the Toyota WRC racing team,
It also comes with a set of wheels that perfectly convey the racing spirit with classic OZ Racing wheels shod with genuine Continental VikingContact 7 rally tires, size 215/60R17.
Toyota GR Corolla Rally Concept
The suspension has been slightly upgraded. To match the shape of the car such as the rear brake system that turned out to be Wilwood adjustable to brake track across the rear before cornering,
And a more fluid rally car style. (Front brake didn't change anything) And the suspension is fully equipped with a set of TIEN shock absorbers , a shock absorber designed for use in real rally competition as well.
As for the engine, Toyota says it has not modified any of its internal parts. Due to the original power of the 1.6-liter three-cylinder engine with a turbocharger, this car is powerful enough to drive on dusty roads with figures of 304 PS and a maximum torque of 370 Nm, in addition to changing the air filter. With a new exhaust just for a louder sound when you hit the gas pedal
Inner working side It is equipped with a full set of racers that can be used in everyday life . Because the point of change is to install a lever hand brake straight from the floor for a more agile use,
Rally Car Edition followed by a set of hard rear seats, OMP full bucket seats,
Plus 5-point seat belts. A spare tire has been added to the rear luggage compartment, two fire extinguishers and an emergency stop switch.
Toyota GR Corolla Rally Concept
But as for the other parts, in addition to that, it's all still the same, whether it's equipment on the console board. Even the steering wheel, the gear center with the handbrake lever, the car, the stowage compartment between the driver and the passenger, the seats for the rear passengers, which can be assured that no one will be able to sit next to a small child (but who would take such a small child to sit in a car like that?) Even the various absorbent materials The sound is still available as before…
However, in the end, the Toyota GR Corolla Rally Concept could only have been created to celebrate last year's WRC World Championship victory and show off to US customers at the 2022 SEMA show . It is believed that anyone who owns this model of car will not be difficult to follow. But will you follow us? If the car is launched in Thailand in early December next…