More than 5 years since MG started marketing in Thailand, I must admit that this camp has a good development.

There are cars in every row.

One of the fastest growing brands among today's newcomers after opening the MG Extender pickup truck last year,
Many parties believe that there is too much inclination for this camp to play the market.

The Multipurpose Pickup Truck, or PPV, was launched today in India as MG Gloster.
MG gloster is a utility of a pickup truck . Previously known as Maxus D90 , it was officially unveiled today in India. Before it is scheduled to be released in India next October
Destined to become a serious competitor to the Ford Everest and Toyota Fortuner, it presents itself with a larger body than its competitors in terms of width and length. With a length of more than 5 meters, the equivalent of a car in the full-size SUV group, the design of the car returns again. As we can see, British automakers are taking advantage of China, taking advantage of the Hiroshima city camp, Mazda, to modify the design lines to look strong and bold.
Comes with a front light. The size is not too large, conveys elegance, and has a new front grille, typical of MG, with integrated daytime running lights, behind which the design lines are drawn to look clean. With small taillights and a large and wide rear hood, it is equipped with 19-inch alloy wheels with 255/55 / ​​R19 tires.
In the cabin, referring to the appearance in the Maxus D90, designed to be modern,
The mileage is an 8.0-inch touchscreen with a large 12.3-inch screen infotainment system,
The front seats have ventilation functions. The cushion provides the ultimate in comfort. It supports a maximum of 7 passengers with 3 rows of seats, but no Indian media has yet really seen the interior of this concept car.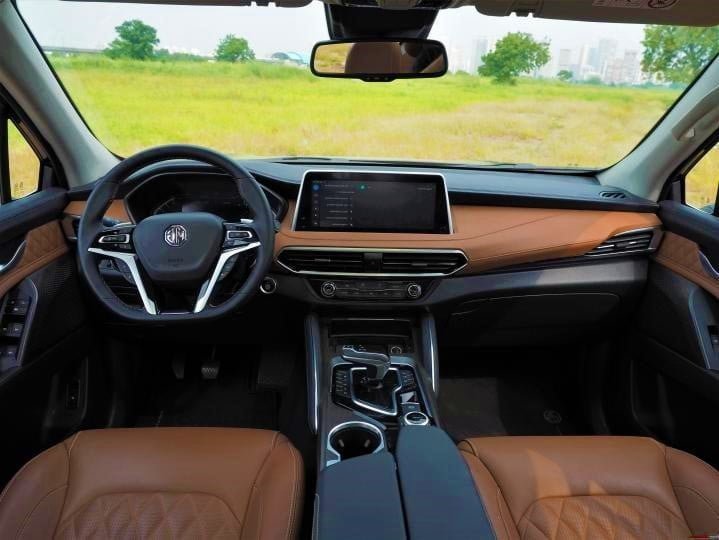 As for the engine, the MG Gloster will be available with a 2.0-liter turbocharged petrol engine that produces 217 horsepower and a maximum torque of 350 Newton meters, with a 6-speed automatic and manual transmission, in addition to a 2.0-liter twin engine. A turbo diesel engine that generates 218 horsepower and 480 Nm of torque.
It is also completed with various safety systems , whether it is a balance control system. The Indian version offers six airbags, a 360-degree camera, hill start assist, and hill descent assist.
Seeing this face, the specifications are as full as this. It should be encouraged that this versatile will come on sale in Thailand or not, because at the moment MG only lacks PPV which is not yet sold in our home.